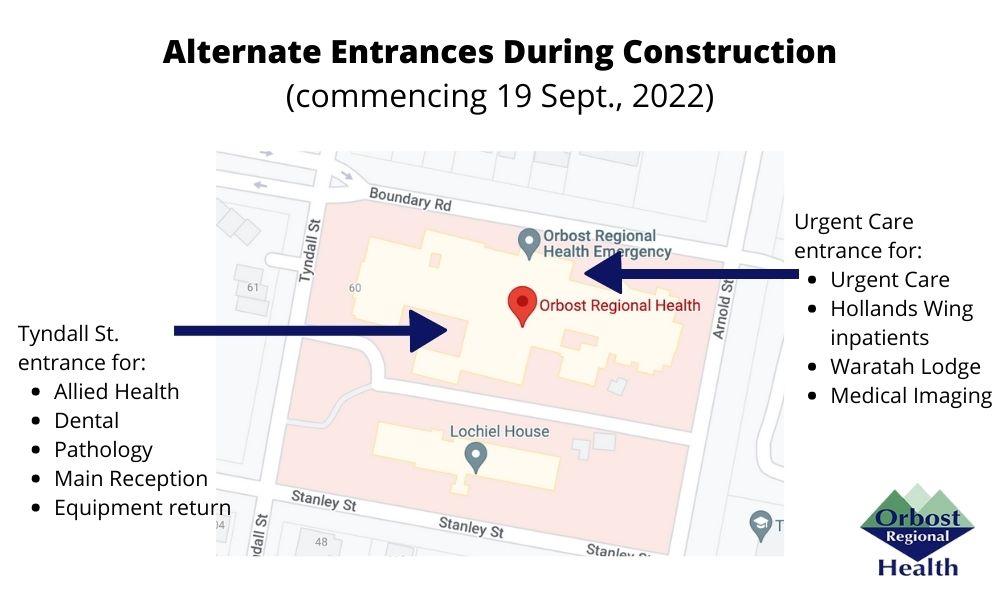 The main entrance at Orbost Regional Health (ORH) will undergo renovation work in the coming months, which will mean temporary changes to how you access the building.
From Sept. 19, access to Urgent Care, the Hollands Wing inpatient ward, Waratah Lodge aged care facility and Medical Imaging (x-ray) will be via the existing Urgent Care entrance at the front of the hospital.
Entrance to Allied Health, Dental, Pathology and Main Reception, and to return equipment, will be via the rear of the hospital, off Tyndall Street.
ORH CEO Vicki Farthing said the works would make the front reception area more accessible to the community, provide areas for people living with disability to access the reception counter, and improve drainage at the front entrance.
Phase 1 of the project will be internal modifications, and this should take approximately 4 weeks.
Phase 2 will focus on external improvements, including separating the vehicle and pedestrian traffic at the front entrance, and creating a designated drop off area.
"Our goal is to make the entrance safer and easier for everyone to access," Vicki said. "We thank the community, in advance, for their flexibility while we get this important work done."
The project has been funded by the Department of Health's Rural Health Infrastructure Fund.