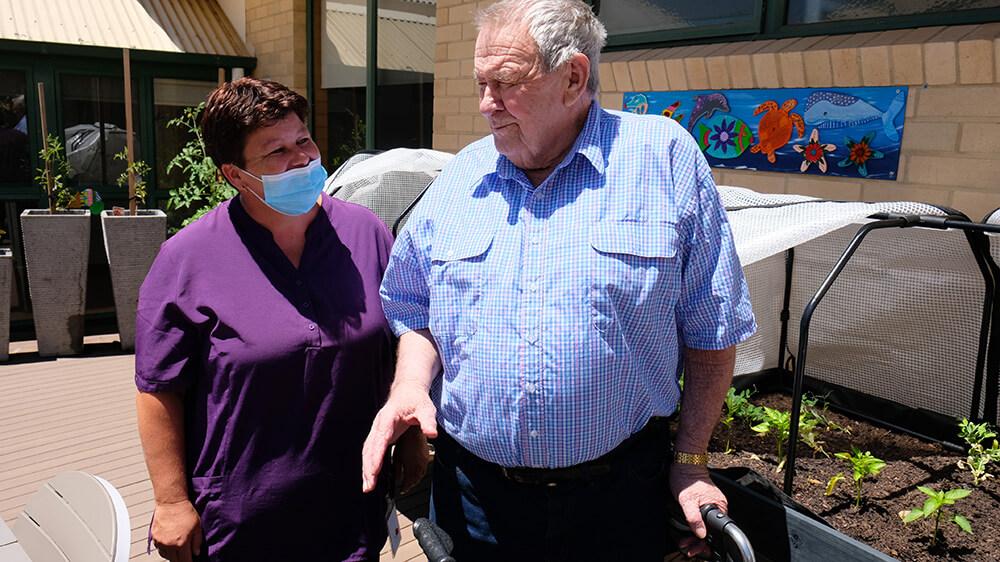 People need people.
These many months of lockdowns and isolation have certainly made us more aware of that than ever.
The urge to see and talk to other people, to interact with other people, is deeply human.
During COVID, nowhere has that been more keenly felt than in our aged care facilities.
Older people are at a greater risk of getting very sick or dying from COVID, and so in most instances friends or family have been unable to visit residents of aged care facilities.
Here at ORH, we knew we had to find a way to keep our residents connected to their loved ones during this difficult time.
So we hired some specialist staff to do just that.
Beginning in the early stages of the pandemic in 2020, ORH created two new leisure and lifestyle positions in Waratah Lodge and Lochiel House, whose job is to help residents arrange phone or video calls with friends and family, coordinate window visits, and conduct one-on-one and group activities to keep residents active and engaged.
Nurse Unit Manager Kim Griebenow said the assistants had made an enormous difference to the residents.
"Initially the positions were just for a three month period, but as the pandemic continued we could see what a vital role this was," she said. "I know the families have really appreciated having someone that could tee up a Facetime or Skype call, and just having that extra person to provide some fun and companionship to the residents."
One of those assistants is Laura Farley, who over the past few months has helped the residents build and maintain a garden in the Waratah Lodge courtyard.
Like many people who choose careers in aged care, she has a calm and friendly demeanour and a strong connection with the residents.
"I love this work," she says. "I love being with people, and it's really nice to be able to be here and help keep everyone's spirits up."
We're lucky to have a great team of people here at ORH. People like Laura Farley.
If you're interested in being part of our team, keep an eye on our careers page for info about new vacancies.